Weingut Groh
WEINGUT GROH
Insider-tip "Rheinhessen"
In search of new exciting wineries and wines for you we went on an expedition and made a discovery in Rheinhessen. To no one's surprise, because this once undervalued wine-growing appellation has started an incomparable rally and today both the Rheinhessen wines and wineries greatly impress experts and wine lovers alike.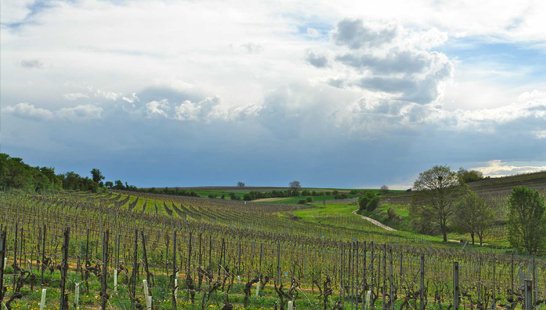 The wine-growing community Bechtheim is located in the southern part of the region, the so-called Wonnegau. Limestone and lime marl give distinction to the soil and provide ideal conditions for growing the Pinot varieties, to which winemaker Axel Groh is dedicated in a very special way. His Burgundies come out so well and rake so many distinctions that neighbouring winegrowers awarded to him the nickname "King of Chardonnay".

The Dreissigacker-brothers count to the most famous of these neighbouring winemakers. It was them who brought Bechtheim to the attention of the young German wine scene. Now they assist and advise their friend and neighbour Axel Groh. Until the 1980s the Deichelgasse in Bechtheim had a different name: "es Grohe Gässje" (the Groh alley). The villagers, however, associated the family winery mainly with "coal". Grandfather Heinrich Groh (born 1868) came to his first vineyards rather by insolvent clients who paid their debts in the form of land. By and by a wine estate throve and prospered whose vineyards Axel Groh now manages. A real insider's tip, from our point of view! Groh stands for straight and characterful wines in the basic and true mastery, which becomes evident in premium wines. Only on rare occasions we tasted such fine and smooth Burgundies and Chardonnays from wooden casks.