Weingut Franz Keller "Schwarzer Adler"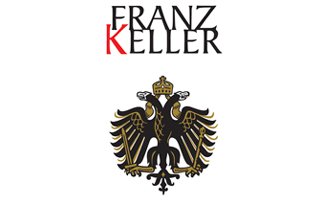 WEINGUT FRANZ KELLER "SCHWARZER ADLER"
The wines of the Black Eagle
From the beginning, the Keller family were distinguished restaurnants. Already for decades, their restaurant Schwarzer Adler represents Baden's top gastronomy. Since 1969, the house continuously holds a Michelin star. That is the reason for the wine estate Franz Keller Schwarzer Adler for developing wines as perfect companion for good food - one of the central ideas of winemaking ever since. Like in the kitchen of a restaurant, also on the vineyard and wine cellar the utmost attention is paid to the primary product. At Franz Keller they are convinced that only grapes of exceptional quality can develop their very own specific character of terroir and origin.
In addition to the special philosophy of regarding wine as a food companion, the unique terroir of the Kaiserstuhl slopes is pivotal for the great success of Franz Keller in the HoReCa business. Therefore the Keller wine estate has launched a new series of typical well structured, but easily accessible wines placing the Kaiserstuhl at centre stage, namely Franz Keller "Kaiserstuhl" Pinot Noir and Franz Keller "Kaiserstuhl" Pinot Gris and Pinot Blanc.

The Kaiserstuhl-vineyards benefit from Germany's warmest wine region under the Mediterranean influence of the Belfort Gap. Such advantageous conditions, paired with the outstanding potential of weathered volcanic soils and partially up to 30 meters strong layers of calcareous loess loam and clay provide the wines with their complex aromas, a distinctive fruit and minerality and help them to their typical delicacy and elegance.

During the vintage great emphasis is put on healthy grapes at optimal ripeness and the full flavour of the berries. Thus, as a matter of principle, the grapes are harvested by hand and often in several stages. Any focus on the sugar content of the grapes (and thus the potential alcohol content of the wine) as criterion for maturity and quality is therefore wilfully rejected. The berry is not meant to be just sweet but needs a balanced taste in its complexity - as the wine resulting from it.

In Germany, Franz Keller was the most important campaigner for completely fermented wines and the wine aging in casks. He and his successor, the current patron Fritz Keller, have led the wine estate Franz Keller Schwarzer Adler to the national top. Their award-winning wines account to the best of the Kaiserstuhl region and maintain international top ranking.