Walcher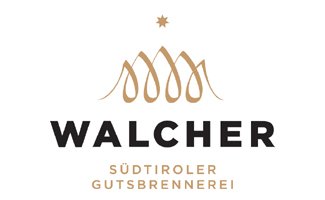 WALCHER
Supreme distilling skills from the heart of Alto Adige
In the heart of the Alto Adige, surrounded by orchards and vineyards lies the small hamlet Turmbach. The heart of the 12th-century set of houses is a combined orchard and vineyard, which the family Walcher from Eppan/Appiano now manages already in the 9th generation. In 1966 Alfons Walcher laid the foundation of a distillery whose name touches the hearts of fruit spirit enthusiasts: the Edelbrennerei Walcher.
By now, his sons Matthias and Theodor have devoted themselves to the distillation of finest grappe and spirits. Only fruits from organic or integrated cultivation will be processed. The specific microclimate in the sun-drenched hillside vineyards at Turmbach provides the fruits with a distinctively intense and pure aroma. Intuition, great craftsmanship and a lot of sensitivity give rise to multifaceted spirits, grappe and fruit liqueurs of the highest excellence.

The Walcher's grant special attention to their Williams. Made exclusively from handpicked, completely matured fruit, and then distilled twice, it excels in intensive fruity flavours and a mild, distinctive taste. The Walcher family has contributed its significant share that Williams is now the best-selling pear spirit in the world.

The secret of Walcher distillates is their sensory creativity. In addition to traditional regional spirits, people at Walcher are consistently working hard to create new distillates and vintage grappe with very fine flavours. According to their philosophy, the Walcher's will include only natural ingredients during the distillation process. Walcher was one of the first industrial distilleries in Alto Adige to obtain the Bioland label. With its organic line the South Tyroleans present only natural products that are in no way artificially modified but based exclusively on organic fruits and herbs. The distillation process is very conservative and ensures durable natural fruity freshness. So the taste of the organic distillates remains natural, not too sweet and just, as nature has created it.