Mandrarossa
Mandrarossa
The pulse of Sicily
The heavenly Menfitana coast is the scene of the Sicilian quality revolution, which took its starting point here in 1958. To abandon their dependence from the large wineries, a group of winemakers joined forces to start their own cooperative of winegrowers.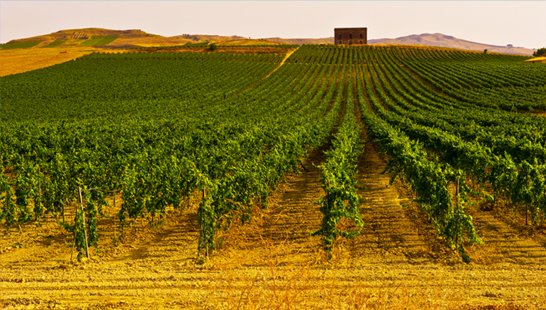 Alluding to the various types of soil in the vineyards they called themselves Settesoli (ital. Seven Soils). Within a short time Settesoli swung into the position of the most innovative company in the wine business and pacemaker of the Mediterranean island. This is particularly owed to the fact of early recognizing the immense potential of the Sicilian terroir for international varieties. Equally high attention went into the creation of autochthonous varieties like Grillo or Grecanico. The introduction of the product line "Mandrarossa" led to an enormous success: The grapes thrive on the south coast of Sicily and incorporate more than 3,000 hours of sunshine, dry heat and a steady, salty sea breeze.
The vines of Mandrarossa wines grow as well on clay, lime, clay and sand, as on loose soils. Such a great diversity enables the creation of a line of exciting, very individual wines. The Mandrarossa Territoriali constitutes a series of finest source-based wines in addition to indigenous and international varieties classics. Mandrarossa Territoriali gloriously incorporate the terroir and particularity of Sicily. Already after the first vintages, the wine criticism was entirely fond of the charming Sicilian. The Gambero Rosso brought it to the point by judging the price / benefit ratio at a revolutionary climax with a "the sensation is perfect!"