De Wetshof
DE WETSHOF
The Chardonnay Wizard
Danie de Wet is a heavyweight of the South African wine industry. And this is not just because of his figure, but because this man has a vision and translates it into wines, that find the world's attention. For Danie, the youngest member of a family of winemakers who is at home on the Cape since 1693, it does not matter to go against the tide.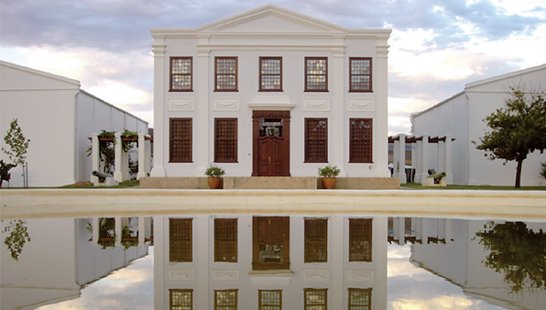 So in the early 70s he imported Chardonnay vines, in spite of import ban and quarantine rules, to South Africa and laid the cornerstone for one of the most important Chardonnay-houses in the world. Equally unconventional is Danies idea to go with a crowd of 600 ducks for bug hunting in his vineyards. Or think about his satellite-guided (!) irrigation system, which is capable of irrigating single vineyard lots according to weather and varietal. A mix of vision and stubbornness has made Danie de Wet to a leading figure in the Cape. Over the years, his wines have won every award to win - from gold medals at national and international competitions to regular maximum ratings in "John Platter", the Bible of wine at the Cape of Good Hope.

The variety of Chardonnays produced by Danie de Wet is impressive. With each type the magician of Chardonnay demonstrates his unique sense of this variety. He selects the grapes according to the vinification process exactly lot by lot. The "Bon Vallon" is exclusively produced in stainless steel tanks and on the lees - "sur lie". "Lesca", which Danie has dedicated to his wife, is fermented in French oak like the subsequent short, two-month maturation "sur lie" in oak barrels. "The Site" is a Chardonnay originated from one individual vineyard, whose complex and elegant style is reflecting its origin and its careful maturing. Finally the vinification of the Bateleur, named after an African eagle and produced only from the best and outstanding vintages, ferments in 300 litre oak barrels and remains for a several months maturation in oak barrels. Danie de Wet's interpretations of Chardonnay have one thing in common: they are always world class!