Bushmills
BUSHMILLS
Bushmills - Since way back...
Bushmills is considered to be the oldest licensed whiskey distillery in the world. Already in 1608, Sir Thomas Phillips received royal distillation rights under the reign of King James I. Bushmill's success is founded, till this day, mainly to first-class traditional working skills.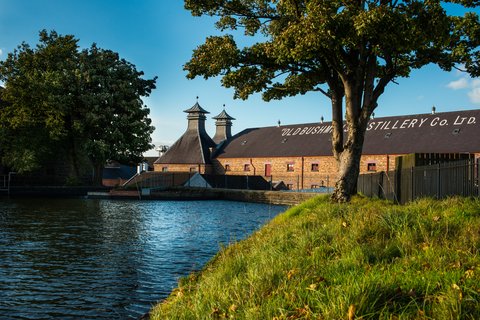 The slogan "handcrafted, small batches, smooth taste" has coined a creation of many award winning Irish Whiskeys. Connoisseurs from all over the world are convinced by their high quality. One of Ireland's most popular whiskeys is Bushmills Blackbush, a multi-faceted blend of 80 per cent malt whiskeys and 20 per cent grain whiskeys, aged for up to seven years in ex-bourbon and sherry barrels. Bushmills is known not only for its excellent blended whiskeys, but also for a great number of outstanding single malts. The range goes from a 10-year-old single malt, matured in American oak and Spanish oloro barrels to the 21-year-old Super Premium Malt, which for the first time rested 19 years in Oloroso and Bourbon barrels and then two years in Madeira barrels. In contrast to Scottish malts, they are distilled three times. According to traditional processes, the mash contains barley, which has not been malted. Bushmills also dispenses with drying on peat smoke. Therefore the Malt Whiskeys of the Bushmills Distillery are granted their typically soft and fruity character and taste much less rough than Scottish malts.