Bouchard Père & Fils
Bouchard Père & Fils
Perfect tradition of wine and viticulture of Burgundy
In 1731, the draper Michel Bouchard from the Dauphiné and his son Joseph start to trade wine. Intrigued by Burgundy's soils, they make their home in Volnay. After years of successful trade they acquire the castle of Beaune in 1810 and convert the bastion to wine cellars.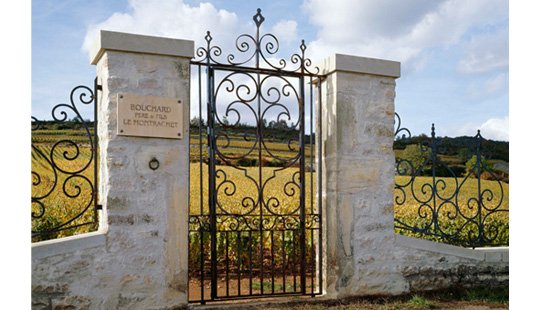 In spring 1995 the Bouchard family passed on the legacy to the Henriot family. They continue a winery tradition, which has begun nine generations before. Bouchard Père & Fils owns over 130 hectares of vineyards in Burgundy, 86 of which are in the famous Grand Cru and Premier Cru appellations as Montrachet, Chambertin and Corton and Beaune Vigne de L'Enfant Jésus, which is even the sole possession of the house.

Unlike the self-contained wine region Bordeaux, Burgundy is the sum of its different, non-contiguous regions: Chablis in the Northwest, the famous Côte d'Or between Dijon and Lyon, the Côte Chalonnaise, the Mâconnais and the Beaujolais. The denominations Bourgogne Chardonnay and Bourgogne Pinot Noir stand for very good red and white wines from vineyards outside the borders of rather famous appellations.

South of Dijon along the road to Lyon we find the narrow wine-growing region Côte d'Or, origin of the world famous Burgundy, the realm of Pinot Noir and Chardonnay. The "Côte" is the Eastern slope of a limestone plateau inclined to the Saône tableland. Here the famous wine villages are like pearls on a string. In a nutshell, there is the Côte de Nuits in the North with its world-famous, powerful red wines and on the other hand the Côte de Beaune with delicate, subtly differentiated red wines and the great white wines of Burgundy in particular. Although we are talking about one of the largest coherent terroirs of the world, there are enormous differences in quality. For the class of a wine, often a few meters of distance on the very same slope can be decisive. This is not only owed to the terroir but also to the sectionalism on the Côte d'Or. Self-bottled wines of smallish premium producers may promise ultimate happiness in Burgundy, but they are sought-after and hard to find. One of the best trading companies vouching for quality with its name is undoubtedly the house of Bouchard Père & Fils.