Aalborg Akvavit
AALBORG AKVAVIT
Denmark's national drink
The Danish aquavit, which is produced to commemorate the influential Aquavit manufacturer Isidor Henius, quotes a variety of herbs and American oak. These characteristics turn Aalborg Akvavit into a perfect companion for tasty fish dishes!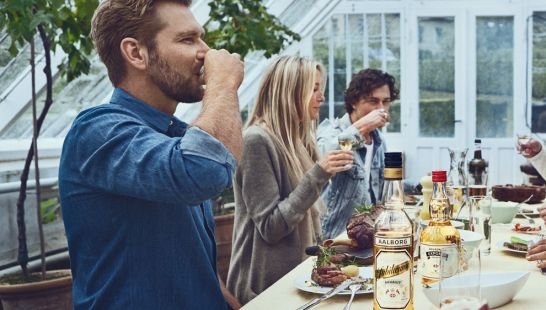 Aalborg, the beautiful city in the north of the Jutland peninsula, is the unchallenged Danish aquavit stronghold since many centuries. Already in 1400 the local farmers refined alcohol from grain – in the beginning as a medicine to treat all sorts of sufferings. Later on clever pharmacist added various spices and herbal extracts both to strengthen the medical impact and also to cover the then little pleasant taste of raw distilled alcohol. So this strong "aqua vitae", the water of life, got more and more sought after. However, the final qualitative breakthrough is owed Isidor Henius, an ingenious immigrant from the former Prussia. By introducing the continuous distillation fore the legendary Aalborg Taffel Akvavit in 1846 he laid the cornerstone of today's internationally renowned culture of Danish Aquavit.

The golden Jubilæums Akvavit was created in 1946 to mark the 100th anniversary of Aalborg Taffel Akvavit and has since then been celebrated as a Danish national drink.